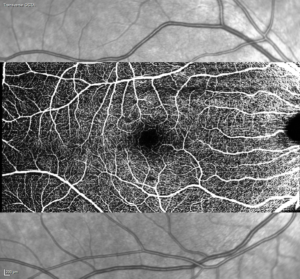 Hemel Hempstead, UK – Heidelberg Engineering has released an update for the SPECTRALIS OCT Angiography Module, which is now available to all new and existing customers. New benefits include a significantly faster image processing time and the ability to customise the field of view of the OCTA image to suit the level of detail required for clinical assessment. The field of view ranges from a high resolution 10°x10° at 5.7µm/pixel lateral resolution, which is suitable for indicating the presence or absence of flow in even the smallest capillaries, to a full field view of 30°x15° at 11µm/pixel.
"The unique algorithm utilised in the OCT Angiography Module for SPECTRALIS separates vascular flow from structure using a sophisticated statistical analysis that, put simply, assigns flow as white and structure as black in the image" explains Christopher Mody, Director of Clinical Services. "This approach, combined with patented TruTrack Active Eye Tracking, ensures there are no grey areas of uncertainty in the OCTA image and produces the highest resolution OCTA images in any field of view."
Also included in the update is the fusion of high resolution OCT images with flow. The flow is colour-coded as yellow on the OCT image to allow the clinician to visualise its precise location in abnormal vessels to aid assessment of pathology.
Visit www.spectralis-oct-angiography.com or email info-UK@HeidelbergEngineering.com to find out more.