Heidelberg, Germany – At the meetings of the European Society of Retina Specialists (EURETINA) and European Society of Cataract and Refractive Surgeons (ESCRS) in Copenhagen from September 9th to 13th Heidelberg Engineering seeks to engage in a dialog about smart multimodal imaging.
Heidelberg Engineering's presence at ESCRS and EURETINA focuses on the advantages of smart multimodal imaging. In addition to lunch symposia, Heidelberg Engineering will offer short, interactive in-booth presentations about both novel and established diagnostic tools designed to support clinical decision-making.
Among the innovation highlights this year are the latest SPECTRALIS® modules, the new Cataract and Refractive Imaging Platform* and the next generation HEYEX* for ophthalmic image management and device integration. ESCRS/EURETINA is also the occasion chosen for the international launch of the Heidelberg Engineering Business Lounge, an exclusive portal for ophthalmology professionals.
"Clinical practice keeps proving the importance of multimodal imaging in comprehensive diagnostics. In this context we would like to take the discussion further to the concept of smart multimodality imaging: Which imaging modalities make the most sense for specific patients and pathologies? How can they be integrated into a solid and convenient IT infrastructure? We are looking forward to discussing these topics with customers", said Dr. Kester Nahen, Managing Director of Heidelberg Engineering.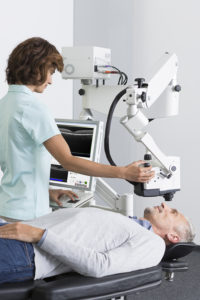 Retina
The Flex Module* for the SPECTRALIS imaging platform will be shown in Copenhagen for the very first time. With its movable stand and an adjustable, flexible arm, the Flex Module enables all SPECTRALIS examinations to be performed on patients lying down in the supine position.
While the Flex Module offers a solution for a very specific clinical set-up, the new OCT2 Module can benefit every SPECTRALIS user. With its high scan rate of 85,000 Hz, this module cuts acquisition time by half and delivers excellent image quality. Additionally, the OCT2 Module provides an ideal platform for future advanced applications such as the OCT Angiography Module*.
For easier detection of peripheral pathologies, the Widefield Imaging Module with its simultaneous 55° fundus and OCT imaging is a very useful tool for retina specialists and general ophthalmologists. The high-resolution, high-contrast scanning laser images captured with this SPECTRALIS module offer diagnostic capabilities beyond those of conventional fundus photography.
Glaucoma
The Glaucoma Module Premium Edition provides a comprehensive analysis of the optic nerve head, retinal nerve fiber layer, and ganglion cell layer by precisely matching unique scan patterns to the fine anatomic structures relevant in glaucoma diagnostics. This glaucoma module compares patients' eyes to a reference database of normal eyes, noting even very small deviations. The precision of the SPECTRALIS AutoRescan function allows confident identification and monitoring of structural changes from visit to visit.
The speed achieved with the SPECTRALIS OCT2 Module is a great enhancement to the Glaucoma Module Premium Edition. Images are acquired twice as fast as in the past and their quality is also better than with the previous OCT engine due to a high scan rate of 85,000 Hz combined with the TruTrack Active Eye Tracking developed exclusively by Heidelberg Engineering.
Cataract and refractive
The Cataract and Refractive Imaging Platform* utilizes high-resolution, swept-source OCT images to combine the most important examinations for anterior segment diagnostics in one modular, upgradeable system: Topography, tomography, anterior segment biometry and axial length in one workflow-efficient device.
Its key benefits are:
All measurements based on high-resolution swept-source OCT images,
Modular and upgradeable platform to suit different workflow needs,
Supported by the next generation HEYEX* for effective image management and IT integration.
Ophthalmic image management and device integration with the new HEYEX*
As the next generation ophthalmic image management and device integration software module from Heidelberg Engineering, HEYEX is an integral part of all Heidelberg Engineering products. The HEYEX module networks all devices and makes it possible to review examination results simultaneously and interactively. It interfaces with electronic medical record (EMR) systems and third-party devices to allow the secure exchange, storage, and dynamic review of images in a single, centralized IT solution even across different sites.
Launch of the Heidelberg Engineering Business Lounge
With the international launch of this new customer portal, Heidelberg Engineering brings premium digital ophthalmology content by experts for experts. Following a quick registration process, users have access to a wealth of detailed product information and support materials such as e-learning materials, case studies or e-books. Live demonstrations will be provided at the booth during EURETINA/ESCR. For more information please visit: www.he-lounge.com
Symposia and in-booth presentations
Heidelberg Engineering will host a lunch symposium at EURETINA and another one at ESCRS as well as a variety of in-booth presentations:
Lunch symposium at EURETINA:
"Multimodal Imaging of Geographic Atrophy"
Friday, Sept 9 (13:00 – 14:00)
Auditorium A3
Speakers: Giovanni Staurenghi (Italy), Steffen Schmitz-Valckenberg (Germany), SriniVas R. Sadda (USA)
Lunch symposium at ESCRS
"Smart Multimodality Imaging & Quiz"
Sunday, Sept 11 (13:00 – 14:00)
Room B10
Speakers: Yit Yang (United Kingdom) – OCT Angiography – Reality Update; Marco Pellegrini (Italy) – Smart Multimodality Imaging
Topics and schedule of 20-minute in-booth presentations:
Update on OCT angiography
Bruch's Membrane Opening (BMO) and Optic Nerve Head (ONH) anatomy
Interpretation of MultiColor images
OCT interpretation in glaucoma
Fundus autofluorescence imaging in geographic atrophy (GA)
Innovations in anterior segment imaging
Morning Session
10:30 -10:50

Noon Session
12:40 -13:00

Afternoon Session
16:10 – 16:30

Friday, 9th September

Update OCT Angiography
(Lunch symposium)
BMO – ONH Anatomy

Saturday, 10th September

Interpretation MultiColor
Update OCT Angiography
OCT – Glaucoma

Sunday, 11th September

BMO – ONH Anatomy
(Lunch symposium)
Autofluorescence in GA

Monday,12th September

Interpretation MultiColor
Innovations Ant. Segment
–
*Currently under development. Not available for sale.