Hemel Hempstead, UK – Increased demand for SPECTRALIS to deliver enhanced optical services in optometry has led to Mike Riley being appointed to the role of National Accounts Manager for optometry for Heidelberg Engineering in the UK.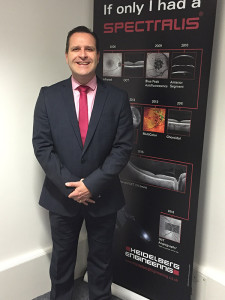 Mike brings 20 years' experience in the optical industry to streamline the customer experience by providing one point of contact for all optometrists within the organisation. The new role will be dedicated to offering a tailored approach to providing clinical solutions in the retail space. Mike explains,
"I'm excited to be able to ensure our key customers always receive the highest level of support from developing a business case right through to implementation and training. The upgradeability of our expandable multi-modal imaging platform lends itself to developing a long-term partnership for practice growth."
Mike joined Heidelberg Engineering in April 2015 having been promoted to this new role from Northern Sales Manager within just 6 months of joining the company.
To find out more about current vacancies and to join our dynamic team please email Info-UK@HeidelbergEngineering.com.