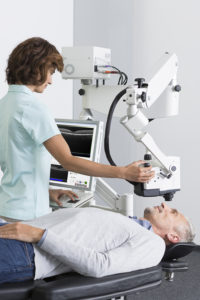 Hemel Hempstead, UK – The Flex Module* for the SPECTRALIS imaging platform has been shown in Copenhagen for the very first time from the 9th -13th September at the EURETINA / ESCRS Congress. With its movable stand and an adjustable, flexible arm, the Flex Module enables all SPECTRALIS examinations to be performed on patients lying down in the supine position.
"The Flex Module offers a solution for a very specific clinical set-up", explains Christopher Mody, Director of Clinical Services. "It enables diagnostic imaging for those who cannot tolerate conventional outpatient imaging techniques, such as elderly and infirm people or patients who are sedated".
Find out more about the Flex Module for the SPECTRALIS Imaging Platform by emailing info-UK@HeidelbergEngineering.com.
*Currently under development and not for sale.