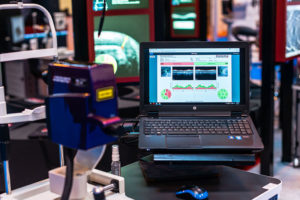 Hemel Hempstead, UK – Heidelberg Engineering, shortlisted as a finalist for Optician Supplier of the Year, has welcomed a new addition to the SPECTRALIS family exclusively at Optrafair. Designed specifically for High Street optometric practices in the UK, the unique configuration features a optimised workflow for retina and glaucoma that makes it very easy to acquire images, whilst the high sensitivity, specificity and reproducibility of the results provide the robust information needed for confident referrals.
"Every SPECTRALIS is instantly recognisable because it is built with the core DNA needed for confident clinical decision making," explains Krysten Williams, Director of Heidelberg Engineering in the UK. "The simple user interface makes it easy to use and the one-page, intuitive reports allow the optometrist to begin refining referrals to advance patient care and making a return on investment faster than ever before."
Additional benefits include wireless web-browser technology, which makes it possible to view patient images on an iPad and the futureproof design, which means the practice can convert, as and when it's ready to the full functionality of the SPECTRALIS. The Heidelberg Engineering Academy supports your team with additional training to get the most from the power and flexibility of the SPECTRALIS and the HEYEX Next Generation software.
Visit www.LoveYourOCT.com to find out more about this new SPECTRALIS configuration launched exclusively in the UK at Optrafair.