Heidelberg, Germany – Alex Huang, MD, PhD, is the winner of the Heidelberg Engineering Xtreme Research Award 2016 for his research on aqueous angiography and OCT structural analysis of outflow pathways. He received the award in a ceremony during ARVO's Annual Meeting in Seattle.
Dr. Huang, who is a glaucoma clinician scientist at the Doheny Eye Institute and at the Department of Ophthalmology of the David Geffen School of Medicine at UCLA in Los Angeles, presented the highlights of his current research in an outstanding lecture titled "To See and Touch Aqueous Humor Outflow".
With the annual Xtreme Research Award, Heidelberg Engineering intends to honor the most cutting-edge research for the advancement of ophthalmic care. This year, the award went to Dr. Huang in recognition for his latest research initiative on structure and function of the anterior segment consisting of a novel method referred to as "aqueous angiography", which involves dye-based angiography of the anterior chamber and OCT imaging of the outflow pathways using a multimodal imaging platform.
Although still in its early stages, Dr. Huang's research intends to improve glaucoma angle-based procedures by guiding its placement according to the individual anatomy of each eye. For example, stent location in minimally invasive glaucoma surgery (MIGS) is believed to have an influence on the outcome of the procedure. If this hypothesis is proven true, customization of the stent's position guided by the characteristics of each eye could lead to improved surgery outcomes.
"We are genuinely excited about future possibilities and potential clinical impact that structural and functional anterior segment imaging such as aqueous angiography may have on glaucoma and ophthalmology. With these tools, one day we may start tailoring glaucoma care to an individual patient's anatomy or patterns of aqueous humor outflow. Thus, this is a real opportunity to learn new biology of the eye as well as push the efficacy of patient care forward", said Dr. Huang.
"Looking ahead, we would like to provide a diagnostic imaging platform to perform dye-based angiography of the anterior segment pre- or intra-operatively and for this reason, we are enthusiastic about Dr. Huang's research project. Such novel applications of anterior segment research could provide clinically valuable information about aqueous humor flow and flow patterns leading to more effective glaucoma treatment", said Dr. Kester Nahen, Managing Director of Heidelberg Engineering.
With that purpose, Heidelberg Engineering's development team supports Dr. Huang and other leading clinicians eager to improve glaucoma treatment outcomes by developing novel anterior segment analyses that combine both the structural and functional aspects using high-end diagnostic imaging equipment.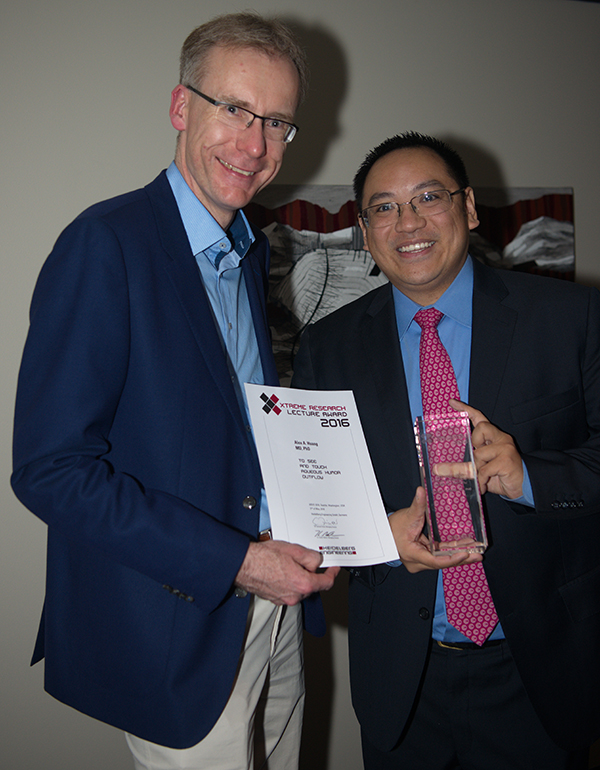 Dr. Alex Huang receives the Xtreme Research Award 2016 from Dr. Kester Nahen, Managing Director of Heidelberg Engineering.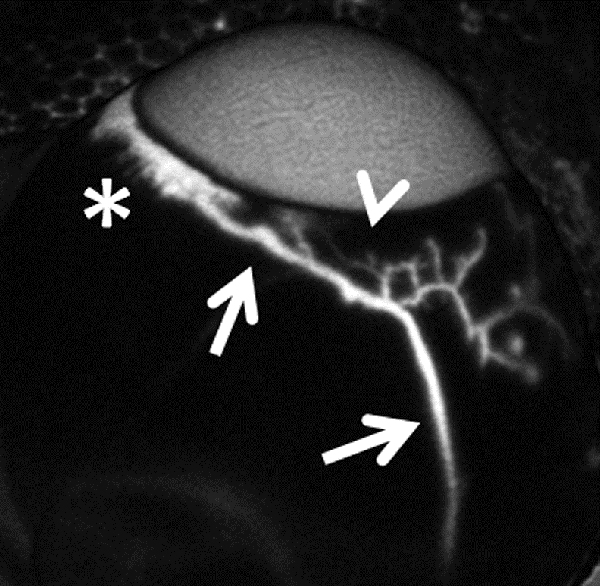 Aqueous angiography demonstrating aqueous humor outflow starting from peri-limbal structures (asterisk; trabecular meshwork, Schlemm's Canal, and collector channels) to a distal episcleral veins (arrows). Segmental flow is seen in peri-limbal areas without outflow (arrowhead).