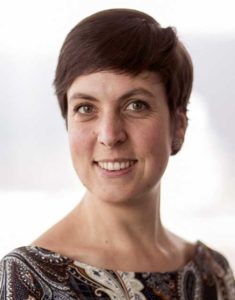 Heidelberg Engineering GmbH, the ophthalmic imaging solutions company, has appointed Arianna Schoess as Managing Director. In her new role, she joins the two company founders, Dr. Gerhard Zinser and Christoph Schoess, and Dr. Kester Nahen in the Board of Directors.
Heidelberg, Germany – Arianna Schoess joined Heidelberg Engineering in 2013 and has since been instrumental in the acquisition of the IT company Medical Communications and the reorganization of Heidelberg Engineering Inc. in connection with its relocation from the US West to the East Coast. In the USA, she serves as Chairman of the Board and in Switzerland as Managing Director of the subsidiary in Zurich. She has been responsible for Human Resources since early 2016, and in her new role she will dedicate herself to supporting Heidelberg Engineering's solid international growth path through product innovations and partnerships.
Arianna received an international education in economics and business administration at universities in Friedrichshafen (Germany), Moscow (Russia) and Zurich (Switzerland). Before joining Heidelberg Engineering, she worked at a medical start-up company and as an investment manager at a Zurich-based private equity company.
"Arianna's great motivation, her experience with investments, and her entrepreneurial spirit will surely help our company reach our growth goals", said Dr. Gerhard Zinser, founder and Managing Director of Heidelberg Engineering.
"The company's founders and the whole team have made Heidelberg Engineering one of the most respected and innovative companies in the ophthalmic industry. I look forward to working closely with our team to continuously refine our strategy, adapting it to the changing needs of the market to maintain our leadership position in the ophthalmology field", said Arianna Schoess.
In the last 25 years, Heidelberg Engineering has evolved from a small to a leading medium-sized company in the field of ophthalmic diagnostic imaging and IT healthcare solutions. Its business strategy has been creating clinically relevant diagnostic solutions by applying cutting-edge technologies. Eye care specialists worldwide use Heidelberg Engineering's devices – including the SPECTRALIS® imaging platform − for the diagnosis and monitoring of pathologies such as glaucoma, age-related macular degeneration, diabetic retinopathy, and macular edema.