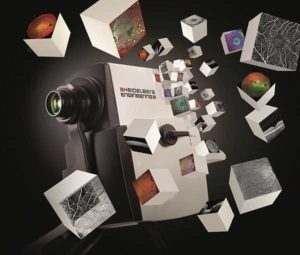 Hemel Hempstead, UK – Heidelberg Engineering has introduced a "7 year Masterlease" financing option to make owning a SPECTRALIS Imaging Platform more affordable than ever with extremely low monthly repayments and a very low interest rate fixed for 7 years. Heidelberg Engineering has uniquely been able to offer the Masterlease after proving the longevity of the SPECTRALIS as an upgradeable imaging platform. This approach enables the optician to upgrade their device as new technologies emerge, such as the OCT2 Module for fast 85,000 Hz scanning speed and OCT Angiography Module, and ensure they have the tools they need to take part in future community monitoring schemes.
"Crucially, upgrades and maintenance contracts can be added to the Masterlease at any point during the term, which allows the eye care professional the flexibility to upgrade their device as new technologies emerge" explains Tosh Vadhia, National Sales Manager. "The optometrist benefits from the increased diagnostic confidence that comes with having a multimodality imaging platform and the peace of mind that patient data will be protected for continued follow-up over time".

The Masterlease is designed specifically for opticians to reduce their monthly costs and provides the additional benefit of both 100% tax relief in the first year and protection of VAT de Minimis. The Masterlease is available via Snowbird Finance. Visit Heidelberg Engineering on stand G20 at Optrafair or call 01442 502 330 to find out more.
Credit is subject to status. Business use only. Terms and conditions apply.