Hemel Hemstead, UK – The SPECTRALIS SPIRIT from Heidelberg Engineering has been shortlisted for a prestigious national award. SPECTRALIS SPIRIT is one of six finalists in the member choice award Product of the Year in the AOP Awards 2018, which is run by the Association of Optometrists (AOP).
The AOP Awards recognise the highest levels of achievement in UK optics, and the Product of the Year accolade celebrates a recent product, launched in the last three years, which demonstrates successful innovation in the optical sector.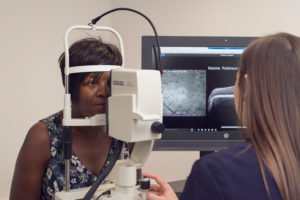 "SPECTRALIS SPIRIT brings fast OCT operation and intuitive image interpretation to the High Street at a time when we are on the cusp of care in the community becoming the norm", explains Krysten Williams, Director of Heidelberg Engineering Limited.
"Just like its big brother – the world-renowned SPECTRALIS Imaging Platform – the SPECTRALIS SPIRIT uses patented TruTrack eye tracking technology to lock onto the patient's retina in the same position each time to measure to as little as one micron of change. This high degree of accuracy ensures a low rate of false positives and increases the optometrist's clinical confidence", added Krysten.
The SPECTRALIS SPIRIT has been designed specifically for optometry practice workflow and links to a number of third party devices including fundus cameras and auto-refractors, providing all the information in one software platform that can be accessed anywhere in the practice.
The Product of the Year winner will be chosen by the profession, with AOP members invited to vote via an exclusive email link. Voting closes at 2pm, Tuesday 12 December with results being announced at a black tie dinner at 100% Optical on Sunday 28 January 2018.