Heidelberg, Germany – Heidelberg Engineering's annual 2015 Xtreme Research Award was presented to Professor Frank G. Holz, MD Chairman and Professor, Department of Ophthalmology at University of Bonn in Germany during the recent award ceremony in Denver, Colorado. Over 11,000 scientists and industry professionals were in the city for the annual Association for Research in Vision and Ophthalmology (ARVO) meeting and many gathered for the Xtreme event.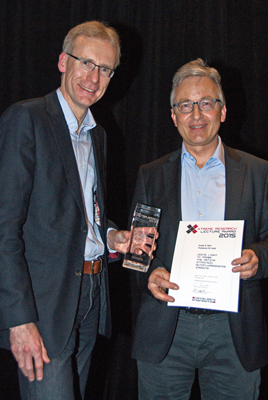 At the event, Prof. Holz delivered a compelling lecture entitled, "Using Light to Probe the Retina: Intrinsic Autofluorescence Imaging" wherein he discussed the clinical value and significance of BluePeak blue laser autofluorescence imaging, one of the multiple fundus imaging modalities available on the SPECTRALIS® platform.
Prof. Holz began his research collaboration with Heidelberg Engineering in 1995 early in his career. He has become an integral part of the retina research community contributing countless peer-reviewed papers, and over 20 books and book chapters including the "Atlas Fundus Autofluorescence". Additionally, Prof. Holz's work was critical in the development of the RegionFinder software which is used to quantify and follow areas of geographic atrophy seen in BluePeak images. BluePeak blue laser autofluorescence is in use in clinical trials aimed at bringing the first drug for the treatment of dry age-related macular degeneration (AMD) to market.
Researchers exploring new therapeutic interventions for dry AMD including pharmacological treatments and gene and stem cell therapy increasingly rely on BluePeak fundus autofluorescence (FAF) imaging to evaluate the effects of these new treatments. FAF imaging is also widely used in clinical practice in the assessment of retinal disease and has evolved from a research tool to mainstream clinical application.
About Autofluorescence
Fundus autofluorescence (FAF) imaging allows for mapping of naturally occurring fluorophores in the retina. These fluorophores accumulate in the retinal pigment epithelium in association with various monogenetic and complex blinding retinal diseases such as AMD. This biological process represents a common downstream pathogenetic pathway in retinal diseases. Before the introduction of FAF, understanding of this phenomenon was limited because it could only be observed via post-mortem studies. Since its introduction, use of FAF has expanded across a spectrum of applications including refined phenotyping of retinal diseases, identification of early disease stages for earlier intervention and better outcomes, monitoring disease progression in the context of natural history as well as interventional studies, and identification of prognostic biomarkers for clinical trial design and patient selection. In the context of dry AMD, FAF imaging allows for precise quantitation of areas of geographic atrophy. These lesion size measurements are now used as primary outcome parameter in interventional clinical trials testing therapeutic approaches to slow disease progression.