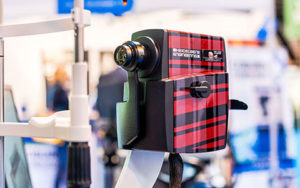 Hemel Hempstead, UK – The private Heidelberg Engineering SPECTRALIS collection has gone on display for the first time in public at Optrafair, Birmingham.
The collection comprises of custom SPECTRALIS camera casings that were specially made and gifted by the manufacturer to Christoph Schoess, Director of Heidelberg Engineering GmbH. The camera casings on show are painted in a variety of unique colours and patterns that mark special occasions in the history of the company. The collection includes a tartan patterned case in tribute of the International SPECTRALIS Symposium 2011 that was held in Edinburgh, which was also the same year Heidelberg Engineering UK was formed. Other colours celebrate the 25th Anniversary in 2015 and the opening of the Swiss subsidiary in 2016.
"This public exhibition celebrates the Spirit of SPECTRALIS launch at Optrafair in the UK and illustrates just how individual each SPECTRALIS can be", explains Arianna Schoess, Managing Director of Heidelberg Engineering GmbH. "The intention was to symbolize the tremendous versatility of our modular platform".