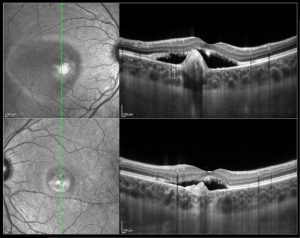 Hemel Hempstead, UK – The coveted Ophthalmic Imaging Association award for best ocular coherence tomography of 2016 has been awarded to Mark Hope, Medical Photographer from The Princess Alexandra Eye Pavilion. His winning OCT image was captured using the SPECTRALIS Imaging Platform and shows a 19 year old female patient who has bilateral adult vitelliform macular dystrophy.
"I submitted this particular image because I feel it is an example of a high quality OCT; it shows good technique and highlights the pathology well. I took advantage of the enhanced depth imaging mode to provide good detail through both the retina and choroid" explains Mark. "I have used a few different OCT machines and I feel the SPECTRALIS offers the best results. In my opinion as a photographer, it is very versatile and allows me to capture high quality images of patients."
Entrants for the annual award were judged on the degree of photographic skill necessary to obtain the image as well as the overall image quality and complexity.
Watch a short video of SPECTRALIS in action using best practice technique at www.he-academy.com/basic-image-acquisition.
(Heidelberg Engineering Business Lounge login required.)