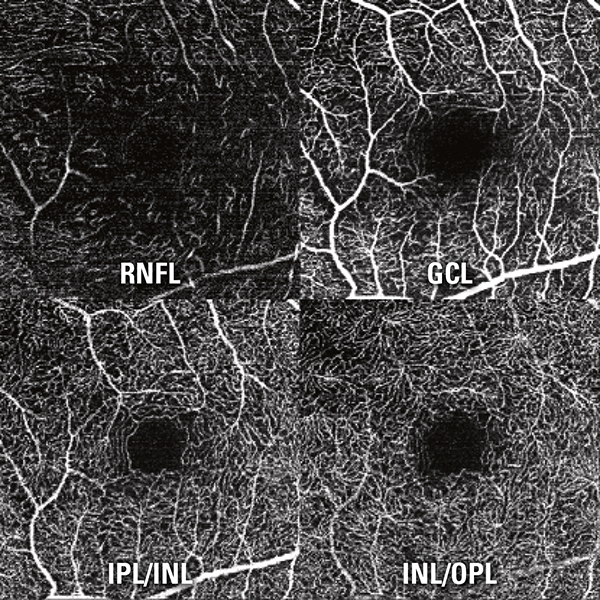 Heidelberg Engineering has started delivering the OCT-Angiography Module to SPECTRALIS® customers outside the United States. The OCT Angiography Module non-invasively produces detailed three-dimensional representations of the perfused retinal and choroidal vasculatures.
Heidelberg, Germany – The SPECTRALIS® expandable diagnostic imaging platform can be upgraded with the OCT Angiography Module to perform non-invasive, layer-by-layer examinations of flow in the vascular networks of the retina and choroid.
The OCT Angiography Module can be added to new and existing upgradeable SPECTRALIS devices with the OCT2 Module. The multimodal imaging platform allows clinicians to compare OCT angiographies to other modalities such as structural OCT and dye-based angiographies as well as infrared, MultiColor and BluePeak images, dependent on the SPECTRALIS model.
"In combination with other imaging modalities, OCT angiography enables a more comprehensive understanding of vascular abnormalities. The SPECTRALIS truly integrates OCTA with other clinically well-established imaging modalities to facilitate for instance direct, pixel-to-pixel OCTA follow-ups on an existing FA," said Dr. Kester Nahen, Managing Director of Heidelberg Engineering.
High resolution for precise vascular details
SPECTRALIS offers high resolution OCT angiography with a lateral 5.7 microns per pixel for visualization of capillaries. An axial resolution of 3.9 microns per pixel enables precise multilayer segmentation. All four vascular plexuses of the retina as described by Tan et al.1 (located in the nerve fiber layer, in the ganglion cell layer, at the border of the inner plexiform layer and inner nuclear layer, and at the border of the inner nuclear layer and outer plexiform layer) can be investigated. Like all SPECTRALIS diagnostic imaging modalities, the OCT Angiography Module benefits from the precision of TruTrack Active Eye Tracking which avoids motion artifacts and ensures high resolution images.
1 Priscilla Ern Zhi Tan, Invest Ophthalmol Vis Sci. 2012;53:5728–5736