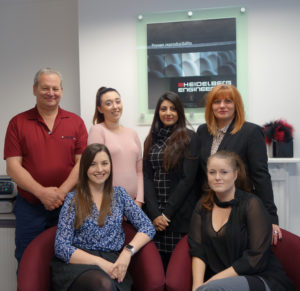 Hemel Hempstead, UK – Heidelberg Engineering's Customer Experience team has expanded to ensure the highest level of support for the growing number of users enjoying advanced ophthalmic scanning technology with SPECTRALIS®.  With a commitment to provide support within minutes of a call to the Hemel Hempstead centre, Heidelberg Engineering has pledged to resolve customer queries quicker than ever.
Emily Malbon has been promoted to Marketing Manager following five years with Heidelberg Engineering.  Knowing the sector well, and familiar to many Heidelberg Engineering customers, Emily is well placed to lead the expanded team which brings marketing and customer experience together to deliver a strong brand –
"Heidelberg Engineering is well known for the gold standard Customer Experience in the service we offer. We have doubled the number of staff that make up our customer experience team in a commitment to continue to provide the high quality support and tailored education that our increasing number of private ophthalmology, NHS and optometry customers have come to know and expect," she said.
Joining Emily is Elizabeth Taylor, who has been promoted to Marketing Communications Coordinator and is ensuring customer communications, educational events and exhibitions are all of a high standard. Recently appointed are Debi Robson and Emma Wyles, who oversee the help desk, servicing and installations, Roma Givane, who takes care of the customer relationship management system ; and Mark Foyle, Stock and Logistics Coordinator, who ensures timely delivery of new SPECTRALIS orders and develops innovative clinical work station solutions.
Debi Robson, Customer Experience Coordinator, says there is great unity within the company –
"We are working very well together as a team and I really enjoy the business. I am passionate about delivering solutions and making our customers happy.  I have a family member with glaucoma and I have been amazed to learn about the SPECTRALIS and how the level of patient care can be improved with this diagnostic tool," she said.