Hemel Hempstead, UK – The upgradeability of the SPECTRALIS Imaging Platform has made it possible for thousands of owners worldwide to improve clinic workflow and enhance image quality with the new OCT2 Module. "Our ability to more than double the speed of the spectral domain OCT platform truly demonstrates the promise this technology holds for balancing increased scanning speeds, resolution, penetration and affordability in a clinical setting," explains Dr. Kester Nahen, Managing Director of Heidelberg Engineering GmbH.
Whilst Heidelberg Engineering own global and exclusive rights to a large number of patents relating to swept source technology, SD-OCT is clinically proven to offer superior resolution in the inner retina1,2. The OCT2 Module combines 85,000 Hz scanning speed with Heidelberg's patented TruTrack Active Eye Tracking to deliver choroidal penetration3 comparable to swept source, whilst preserving resolution in the inner retina and continuity of patient data for tracking progression.
The OCT2 Module is an upgrade that exchanges the original SPECTRALIS 40,000 Hz engine with an 85,000 Hz engine that offers twice the image acquisition speed, providing a future proof platform for new imaging technologies such as the new OCT Angiography Module. More affordable and environmentally friendly than investing in a new swept source device, the global response of SPECTRALIS owners to the launch of OCT2 speed without sacrifice has also created a unique opportunity for those who may have once believed that SPECTRALIS was outside their price range.
"The original SPECTRALIS engines that have been exchanged for the OCT2 module have been refurbished and end tested at our manufacturing facility in Heidelberg, Germany" explains Tosh Vadhia, National Sales Manager. "They have been paired with new laser heads to start life again as an upgradeable SPECTRALIS platform with a one year warranty. This means that a limited number of SPECTRALIS devices with refurbished engines are currently available at a special price. The upgradeable platform approach ensures the longevity of your new device, once again proving SPECTRALIS to be a wise financial investment."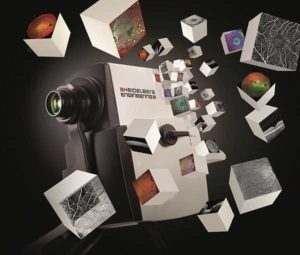 These additional modules from the SPECTRALIS portfolio can be added to the device whenever the owner is ready:
OCT2
OCT Angiography
MultiColor laser imaging
Widefield fundus and OCT imaging
Ultra-Widefield fundus imaging
BluePeak Autofluorescence
Glaucoma Module Premium Edition
NSite Analytics
Anterior Segment imaging
Fluorescein Angiography
ICG Angiography
Call 01442 502 330 to receive a quotation from a Heidelberg Engineering imaging expert.
1 Barteselli, G et al. Combined depth imaging technique on spectral-domain optical coherence tomography. Am J Ophthalmol. 2013, 155(4):727-32.
2 Barteselli, G. et al. Real-time full-depth visualisation of posterior ocular structures: comparison between full-depth imaging spectral domain optical coherence tomography and swept-source optical coherence tomography. Retina, 2016, 36(6):1153-61.
3 Waldstein, SM et al. Comparison of penetration depth in choroidal imaging using swept source vs spectral domain optical coherence tomography. Eye (Lond). 2015, Mar;29(3):409-15.