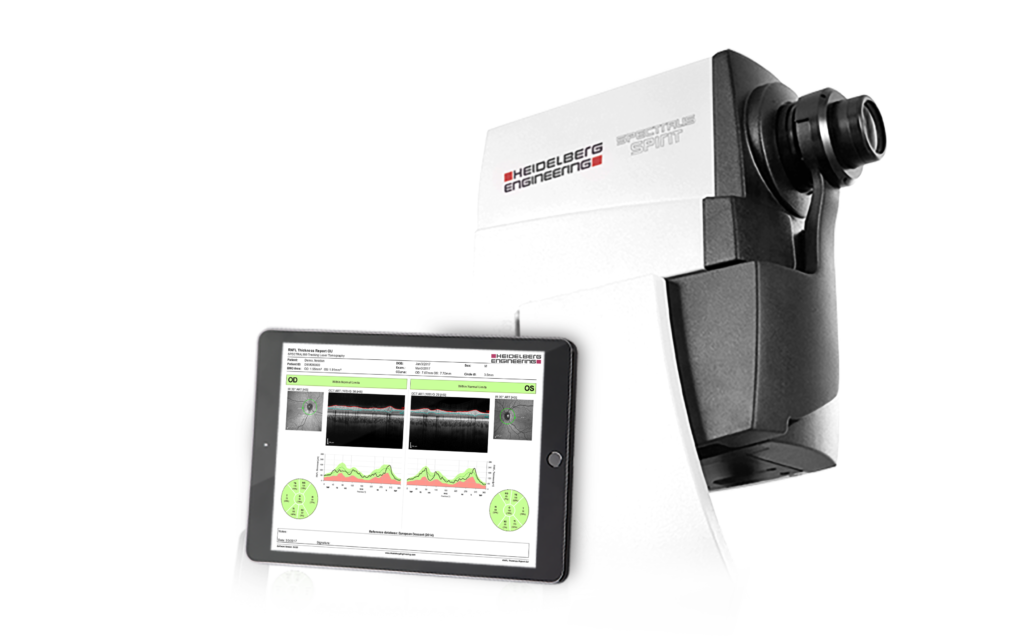 Hemel Hempstead, UK – OCT technology is set to be the centre of attention at Optrafair this year as more High Street practices strive to offer a higher standard of clinical care, and work more closely with ophthalmology to provide services in the community.
"We believe that in two years' time the majority of UK optometry practices will have OCT. Investing in an upgradeable platform has the potential to grow your business significantly, and adding functionality as it becomes relevant is the way forward. Technology that offers the highest level of accuracy and reproducibility allows you to make clinical decisions and refer with confidence,"said Krysten Williams, Heidelberg Engineering UK Director.
Heidelberg Engineering will launch the first new upgrade to the fast and user friendly SPECTRALIS SPIRIT, designed specifically for High Street practices. The Anterior Segment Module provides central corneal thickness measurements and dual angle imaging of the anterior segment for glaucoma monitoring, as Krysten Williams said –
"The Anterior Segment Module allows you to visualise both angles in one scan, providing efficient anterior chamber angle evaluation. The beauty of the SPECTRALIS SPIRIT is that it can be upgraded and this first module for the platform is eagerly anticipated."
Connectivity of the SPECTRALIS SPIRIT platform will be a key feature of demonstrations at the show, particularly with other pre-screening equipment such as fundus cameras and field machines.
"We will be showing integration of other diagnostic devices into the HEYEX 2 software platform to streamline practice workflow and bring together all diagnostic information into one single platform," added Krysten Williams.
Also, Heidelberg Engineering will promote a "try before you buy" rental programme, giving eye care professionals the opportunity to purchase, upgrade or to return the instrument at the end of the 18 month contract.
Rental customers are supported with the same comprehensive package of benefits that SPECTRALIS owners receive, including high levels of training, technical support and practice marketing, with the added bonus of an 18 month warranty.
"We are so confident about our technology and level of support that we are happy to make this offer. We know that once a practice has integrated any SPECTRALIS into the practice they are not going to turn the clock back. The practice will discover the benefits of the technology and it will easily generate revenue for a healthy return on investment.
"We encourage our customers to offer an eye health check to all patients to establish a baseline examination that becomes part of their patient record referenced on future visits. Retinal recognition technology knows the patient on his or her return scanning, in the exact same location for the highest level of reproducibility," added Krysten.
Consultant ophthalmic surgeon, Sundeep Kheterpal, who has a SPECTRALIS at his Windsor clinic, praised the ease of accessing the technology –
"Heidelberg Engineering has a number of finance options which are very flexible."
He also highlighted the means of upgrading the modular platform –
"Having been in practice for 19 years – both in the NHS and with private providers –I know the issues of obsolescence and implementing new technology and retraining key staff. What appealed to me about Heidelberg Engineering technology is the fact that the modularity of the system overcomes so much of this."