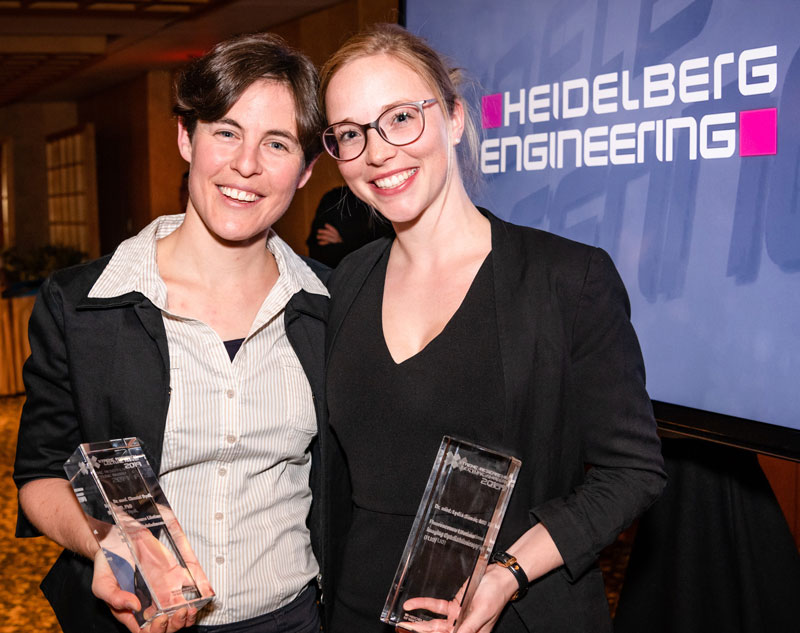 Heidelberg, Germany – Dr. Chantal Dysli (Inselspital University Hospital Bern, Switzerland) and Dr. Lydia Sauer (Moran Eye Center of the University of Utah, USA) are the joint winners of this year's Xtreme Research Award. The two ophthalmologists have earned this recognition due to their impressive Fluorescence Lifetime Imaging Ophthalmoscopy (FLIO) research and impactful peer-reviewed manuscripts. The award ceremony and lecture were held at ARVO's Annual Meeting in Vancouver (Canada).
FLIO1 is a novel, non-invasive imaging modality able to detect early metabolic change preceding morphological changes in the retina. It provides in-vivo autofluorescence lifetime measurements of natural retinal fluorophores upon laser excitation.
Dr. Dysli and Dr. Sauer have been involved in numerous studies demonstrating that many retinal pathologies display distinct metabolic patterns in FLIO images before any other diagnostic imaging method can identify structural signs of disease. FLIO detects changes related to AMD, albinism, Alzheimer's disease, diabetic retinopathy, macular telangiectasia type 2, retinitis pigmentosa, and Stargardt's disease2,3. Some of these changes can be detected in healthy eyes, serving as potential early indicators of retinal disease. Other changes in already affected eyes seem to reveal disease progression. Once the technology becomes widely available, the diagnostic information provided by FLIO images could be used for early diagnosis and therapy monitoring.
FLIO in Stargardt's disease: Representative autofluorescence intensity and lifetime image at baseline and at 4 years follow up (long spectral channel 560-720nm). Black arrows highlight flecks with short autofluorescence lifetimes (red) at baselines and a change to long fluorescence lifetimes (blue) at follow up. White arrows indicate new flecks with short lifetimes at follow up. Images courtesy of Dr. Chantal Dysli.

"Dr. Dysli and Dr. Sauer have been a driving force in the clinical development and validation of fluorescence lifetime imaging as a diagnostic aid in the detection and management of various ocular and systemic conditions. Their clinical research paves the way for functional ocular imaging as the means to advance the field towards earlier detection of diseases." said Ali Tafreshi, Head of Product Management and Clinical Affairs at Heidelberg Engineering.
At the award ceremony, Dr. Dysli stated: "FLIO is a fascinating novel technique opening a new dimension in retinal imaging by providing information about basic pathophysiological mechanisms within the retina. For me, it has been very inspiring to follow the development of FLIO from bench to bedside and to see the progress and future clinical applications of such an innovation".
Dr. Sauer said: "FLIO is an exciting technology to work with. In-vivo metabolic imaging could become a new clinical milestone in our field, so we are delighted to be part of its development. The FLIO technology is useful in the diagnosis of many retinal diseases and as our research attests, it detects changes in the eye even before damage is visible with conventional imaging techniques. FLIO's ability to show metabolic change before actual damage manifests could also lead to earlier interventions. I feel honored to be a part of this exciting research."

1 FLIO is currently a research product from Heidelberg Engineering, not available commercially.
2 Sauer, L., Andersen, K.M., Dysli, C., Zinkernagel, M.S., Bernstein, P.S., Hammer, M., "Review of clinical approaches in fluorescence lifetime imaging ophthalmoscopy," J. Biomed. Opt.23(9), 091415 (2018), doi: 10.1117/1.JBO.23.9.091415
3 Dysli, C., S. Wolf, M. Y. Berezin, L. Sauer, M. Hammer and M. S. Zinkernagel (2017). "Fluorescence lifetime imaging ophthalmoscopy." Prog Retin Eye Res.