Take advantage of an introductory offer on the ANTERION + Cataract App
Receive a 20% discount off the list price of ANTERION® with the Cataract App when you trade in your existing biometry device until October 31st 2019.

ANTERION utilises the power of high-resolution swept-source OCT images to provide the most important anterior segment examinations and measurements in one modular, upgradeable platform.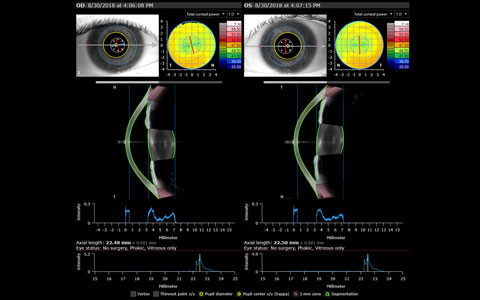 The ANTERION Cataract App combines key measurements for cataract surgery planning: corneal analysis, anterior chamber depth, lens thickness, and axial length. The optimised swept-source OCT technology allows for accurate measurements and visual confirmation with high-resolution images even through dense cataracts.
The latest upcoming software release for ANTERION was revealed at ESCRS and includes:
The option to upgrade and add the Barrett formulas: Universal II, Toric, True-K and True-K Toric.
Refinements to the acquisition speed within the Cataract App, combining all biometry measurements and comprehensive cornea assessments in only one acquisition step, significantly reducing chair-time for your patients
IOL CON Database import that grants access to the most up to date IOLs, as well as optimised constants in order to streamline your workflow.
Contact us by calling 01442 502 330 or emailing Info-UK@HeidelberEngineering.com for a quotation.