Renowned Surgeons and Researchers Present Latest ANTERION Study Results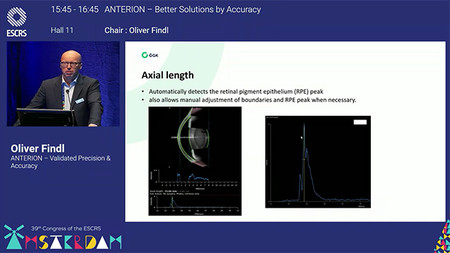 Heidelberg Engineering's satellite symposium at ESCRS 2021 "ANTERION® – Better solutions by accuracy" featured an expert panel of clinicians. Prof. Findl, Dr. Gundersen, Dr. Gjerdrum, and Dr. Gatinel presented the latest clinical research on ANTERION, highlighted its predictable outcomes in difficult eyes, and gave a preview on new methods for the evaluation of corneal ectasia.
If you missed these informative sessions or would like to see them again, you can now watch a recording of the symposium online.

Agenda:
"Validated precision and accuracy": Prof. Dr. Oliver Findl, Hanusch Hospital, Vienna, Austria
"ANTERION biometry in normal and difficult eyes": Dr. Kjell G. Gundersen, IFocus Eye Clinic, Haugesund, Norway
"ANTERION biometry and ray tracing IOL calculations for post-LASIK patients": Dr. Bjørn Gjerdrum, IFocus Eye Clinic, Haugesund, Norway
"SCORE Analyzer: Screening for subclinical corneal ectasia": Dr. Damien Gatinel, Rothschild Foundation, Paris, France