OCT LIVE and Hands-on OCT Workshops at the IMI Conference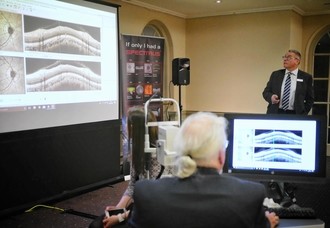 Multimodal imaging will be brought to life with OCT LIVE at the Institute of Medical Illustrators Conference on the 5th October between 1:00pm – 2:15pm. Gavin Walters, Consultant Ophthalmologist, Harrogate and District NHS Trust, will accompany 3 real patients who will be scanned using SPECTRALIS® live on the big screen. The Heidelberg Engineering Academy Experts will demonstrate how to acquire the perfect images, as well as tips and tricks for imaging difficult patients.
In addition, on the 5th and 6th October at the conference you have the opportunity to drop in on dedicated SPECTRALIS Hands-on Workshops. Join the Heidelberg Engineering Academy imaging experts and get hands-on experience with the SPECTRALIS imaging platform. Whether you are a new or experienced user, our trainers will take you through HEYEX software operation, tips and tricks for the perfect image acquisition and demonstrate the full capabilities of the SPECTRALIS so that you can get the most from your device. The number of participants for each session is kept to three in order to offer one-on-one tutoring. Feel free to come prepared with any questions you might have about using the SPECTRALIS.

The Institute of Medical Illustrators Conference is being held on 4th – 6th October 2018 at the Old Swan Hotel, Swan Road, Harrogate, HG1 2SR.