Heidelberg Engineering Virtual Exhibition
Welcome to our virtual exhibition space.
Due to the COVID-19 pandemic, ophthalmic exhibitions and events around the globe have been cancelled or postponed. This page aims to deliver some of the content that you would have enjoyed from Heidelberg Engineering Limited at the events that would have occurred during this time. This page will continually be updated with educational opportunities, some of them professionally accredited, and information about our product portfolio to keep you up to date with the latest developments in ophthalmic imaging.
Please get in touch if you would like to speak to one of our imaging experts.
---
Learn Online
Below you will find a range of recorded lectures delivered by the Heidelberg Engineering Academy that you can enjoy online!
Some recorded lectures (indicated below with the GOC-approved learning objectives) are worth 1 CET point and these are approved for optometrists and dispensing opticians. In order to qualify for the CET point, you must watch the full length of the recorded video and answer the MCQ questions at the end.
Please visit our Business Lounge to explore the full and extensive collection of educational materials on offer.


Recorded lecture: OCT - Interpreting the image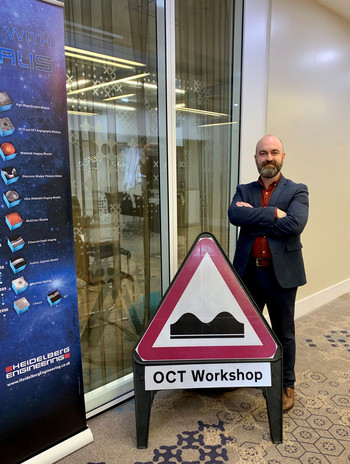 OCT is used increasingly in optometric practice to identify retinal pathology, improve referral accuracy and monitor for progression of disease. It is vital that the eye care professional understands the image in front of them and knows how to describe an abnormality to their colleague. This recorded lecture shows a systematic approach to interpreting the OCT, use of terminology and when to refer, with case examples and exploration of what happens in the hospital setting.
Speakers:
Christopher Mody, Clinical Director, Heidelberg Engineering GmbH
Dr Fahd Quhill, Consultant Ophthalmologist, Royal Hallamshire Hospital, Sheffield, UK
1 CET Point Approved:
Optometrist:
3.1.3 Understand how and when to use an OCT to examine the retina.
1.2.5 Know the correct terminology for describing fundus abnormalities seen with the OCT and the appropriate urgency.
6.1.5 Recognise structural change and pathology seen with the OCT and know when to refer.
Dispensing optician:
1.2.5 Have an understanding of the terminology used by the optometrist and ophthalmologist to describe abnormalities on the OCT.
2.2.2 Understand why the optometrist may request an OCT image and why the patient may be referred to ophthalmology.
Coming soon


Recorded lecture: Learn how to use the OCT toolkit for glaucoma assessment

OCT can provide detailed information about the anatomical structure of the eye and an objective measurement of progressive change. OCT complements the subjective, qualitative eye examination with objective, quantitative results. It is extremely useful to integrate OCT into glaucoma assessment, alongside the clinical examination, consideration of the patient's history and symptoms, visual field results, and arsenal of other diagnostic tests. This workshop explains how a comprehensive suite of OCT parameters can be used to evaluate glaucoma patients in your own individualised way.
1 CET Point Approved:
Optometrist:
6.1.2 An understanding of how glaucoma affects a patient vision and how OCT can be used to investigate patients at risk of glaucoma.
6.1.8 Begin to develop a systematic approach of OCT analysis, to identify patterns of change in retinal structures to detect glaucomatous changes and refer accordingly.
6.1.3 An understanding of how OCT can be used to monitor a patient with glaucoma for progression of the disease to provide evidence for referral.
Watch the lecture:
A link to the recorded lecture will be available shortly.


---
Discover the benefits of becoming a SPECTRALIS owner

No matter how you configure your SPECTRALIS, you can be sure it contains the core DNA for high contrast, high resolution images that give you the confidence to pinpoint pathology, identify real change and make more informed clinical decisions.
Precise, automated retinal follow-up scanning with patented TruTrack Active Eye Tracking. Confidently see the smallest changes with retinal thickness measurement reproducibility to within 1 micron.
cSLO infrared imaging for live assessment of the retina that is comfortable for the patient, even through very small pupils and cataracts.
Truly upgradeable imaging platform that allows you to start small and bolt-on additional functionality as new technology emerges.
Own an OCT like no other. There is a reason SPECTRALIS is trusted by over 200 NHS hospitals and loved by its owners.
In addition to the above, every SPECTRALIS comes with a complete practice marketing campaign that highlights the benefits to your patients and a comprehensive educational programme to build your confidence. If you have an existing OCT device, our experts can provide guidance on how you can keep and view your legacy data as part of our consultative approach to integrating OCT into your clinic.
Virtual Demonstration
A link to watch a demonstration of the SPECTRALIS imaging platform will be available here shortly.
---